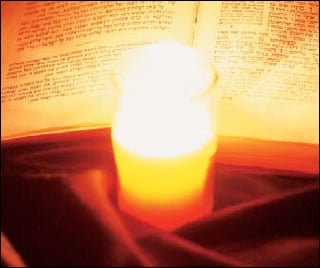 Yizkor Memorial Service
YIZKOR - The memorial service for those who have passed away will be said on the holiday of Shmini Atzeret, Shabbat, October 7, during the morning services at approximately 11:30 AM.

The ancient custom of recalling the souls of the departed and contributing to charity in their memory is rooted in the fundamental Jewish belief in the eternity of the soul. When physical life ends, only the body dies, but the soul ascends to the realm of the spirit where it regularly attains higher levels of purity and holiness.

When this life is over, the soul can no longer perform good deeds; that method of attaining merit is the sole province of mortal man. It is he who must struggle with the baseness and selfishness of his animal nature. But there is a way that the disembodied soul can derive new sources of merit. History is a continuum. If we, the living, give charity or do good deeds due to the lasting influence or in memory of a departed parent of other loved one, the merit is truly that of the soul in its spiritual realm. Moreover, G‑d, in His mercy, credits our deed to the departed one because he or she too would have done the same were it possible. But mere intentions do not suffice; only accomplishment can achieve this purpose. The intention to give and the fulfillment of that intention are both necessary.

YIZKOR is observed in three ways:

1) Light a Yahrtzeit (24 hour) candle on Friday, October 6, in memory of all immediate relatives who have passed away.
2)
Give charity in memory of the person(s
). How much should you give? As a general rule, think of an amount that you are comfortable giving, and then add $18. (In Jewish tradition, the # 18 symbolizes life.) When you write the check, you should write "in memory of . . . " at the bottom. Please consider sending it to Chabad of Downtown Coral Gables, 1827 Ponce de Leon Blvd, Coral Gables, FL 33134. For your convenience, you can also securely donate online by
clicking here
.
3)
Mention the name(s) at the YIZKOR service
at shul. If you cannot attend services, then you should have someone mention the name(s) on your behalf at services. You should also say the prayer by yourself.