ב״ה
Chabad's Zoom Classes
for this Week
Join Us!
SPECIAL SESSIONS:

Monday (tonight), May 25, 7:30 PM
Digging up Jerusalem: Recent Fascinating Discoveries in the Holy City
In commemoration of Jerusalem Day, join us for a fascinating archeological presentation, highlighting the latest exciting biblical archeological discoveries in Jerusalem.
In this roundup of recent discoveries from Jerusalem, we will highlight the dramatic new finds that are reshaping our understanding of the city's ancient history.
The PowerPoint lecture will be presented by our very own Rabbi Avraham Stolik, who has been lecturing on the topic of biblical archeology for close to two decades.
Open to all, no charge.
Join at: https://us04web.zoom.us/j/7333272751
Wednesday, May 27, 7:30-8:30 PM
Special Shavuot Class
We celebrate Shavuot this week, beginning Thursday evening, May 28 through Saturday evening, May 30. On this holiday we celebrate the giving of the Torah and G‑d's mass revelation at Sinai. As we get ready to commemorate  the 3,332nd anniversary of this occasion join us for a special Shavuot class on Wednesday, May 27, 7:30 pm.
Join at: https://us04web.zoom.us/j/7333272751
Essence to Essence: The Sinai Connection
If Abraham already knew the Torah and taught it to his children, what did we receive at Sinai? This lesson will demonstrate that G‑d did not just give us the Torah at Sinai; He also gave us Himself. We did not only give G‑d our commitment at Sinai; we gave Him ourselves as well. 
G‑d was thrilled at Sinai to learn that He matters to us. We were thrilled at Sinai to know that we matter to Him.
Thursday, May 28, Shavuot Eve, 6:00 pm
Pre Shavuot Inspiration
Join us as we usher in the holiday of Shavuot together with 10 minutes of inspiration from Rabbi Stolik.
DAILY NOONTIME SESSIONS:

Monday-Thursday, May 25-28: 12:30-12:45 pm
Positivity Bias: Stories to reframe our experience of these turbulent times.
Join at: https://us04web.zoom.us/j/763765474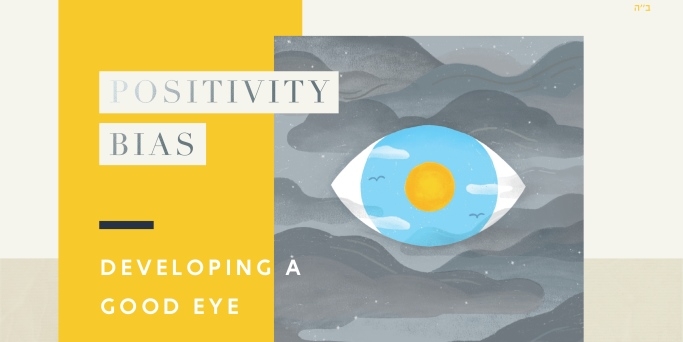 Week Three Lesson Description: Developing a Good Eye:
Would it make a real difference if we followed the maxim, "See no evil, hear no evil, speak no evil"? Does changing our outlook on others merely effectuate change within ourselves, or could it somehow affect others as well?
This session introduces a potentially life-changing teaching about how we can impact those around us for the better.
Monday (TODAY): The Fortitude to Differ
Tuesday: "This Is All He Has . . ."
Wednesday: "He Tells the Truth!"
Thursday: Problem or Prodigy
Please note: there will be no session on Friday due to the holiday of Shavuot.