Chabad in the News
December 5, 2013
October 26, 3013
Miami Herald
Program alerts Jewish women to genetic risks of breast cancer
By Elizabeth de Armas
When Wendy Unger found out she tested positive for the BRCA-1 gene mutation which dramatically increases the risk of invasive breast and ovarian cancer, she wasn't planning on taking any preventive measures.
Her initial thought: Why would anyone want to have a mastectomy or oophorectomy if they didn't have cancer?
But that thought quickly changed when Unger's oncologist told her that as a carrier of the BRCA-1 gene, her risk of developing breast or ovarian cancer was 85 to 90 percent compared to 2 to 3 percent for a woman without the gene mutation.
"When my oncologist asked me if that changed my mind, I asked, 'how quickly can I have the surgery?' " she said.
Unger, a Jewish woman of Ashkenazic (East European) decent, ended up having a double mastectomy and oophorectomy as a preventive measure. Now, she is 64, and remains cancer-free.
According to the Center for Restorative Breast Surgery, Ashkenazic women are 10 times more likely to have the mutations in BRCA-1 and BRCA-2 genes than the general population.
One in 40 women of Ashkenazic descent carry a BRCA gene mutation compared to about 1 in 400 in the general population. Women who carry the mutation have a 50 to 80 percent risk of developing breast cancer, as early as her 20s, and a 20 to 40 percent risk of developing ovarian cancer as early as her 30s.
Unger, who volunteers as an Outreach Coordinator for Facing Our Risk of Cancer Empowered (FORCE), says the "fly in the ointment" is that for women who are a carrier of the BRCA-1 or BRCA-2 gene, the cancer is much more aggressive and difficult to treat.
"I can only speak about what I did for myself, the best thing for me, which was to look at the high risk of aggressive cancer if I got the cancer and didn't have the surgery," Unger said. "I was a healthy woman and I wanted to stay a healthy woman."
Due to the growing concern in the community over what preventive measures Jewish women should take – yearly exams, medication or surgery – the Rohr Jewish Learning Institute (JLI) in Coral Gables is offering a class that will discuss what Jewish law recommends and explore the biblical requirement to protect individual health.
The class, "An Ounce of Prevention: BRCA, Genetic Testing and Preventive Measures," will be held on Wednesday at 12 p.m. at the law firm of Becker and Poliakoff in Coral Gables and at 7:45 p.m. at the Chabad of Downtown Coral Gables.
Both classes are being offered for free in order to promote community awareness during breast cancer awareness month, but registration is still required. Anyone interested can visit http://www.chabadgables.com/ for more information.
Rabbi Avrohom Stolik, the regional director for JLI, will be leading the workshop. He said although Jewish law was formed when DNA testing didn't exist, there are some principles that can guide people as to whether or not genetic testing should be done.
"The problem that woman face is whether to have themselves tested to see if they have this gene or not, and if they find that they actually are a carrier of this gene, what should they do," he said.
Attorneys and doctors will be leading the medical and legal dimension of the workshop, and both the secular and Jewish perspectives will be addressed. Doctors, dentists and attorneys will be able to receive continuing education credits for attending the course and no Jewish background is required to register.
"You don't need to have any knowledge of Jewish or secular law," Rabbi Stolik said. "We encourage everyone to participate because it is a very important topic that people should learn about and be aware of."
IF YOU GO
What: An Ounce of Prevention: BRCA, Genetic Testing and Preventive Measures
When: Wed. Oct. 30 at 12 p.m. and 7:45 p.m.
Where: 12 p.m. class will be held at the law firm of Becker & Poliakoff, 121 Alhambra Plaza, 10th Floor, Coral Gables and 7:45 p.m. class will be held at the Chabad of Downtown Coral Gables, 2030 S. Douglas Rd., Suite 117, Coral Gables.
Cost: Free, but registration is required.
For more information: call 305-490-7572, visit http://www.chabadgables.com/ or email [email protected]. 
April 10, 2013 
Rabbi Avrohom Stolik Delivered an Invocation Opening a Memorial at the U.S. Southern Command.
US SOUTHCOM (United States Southern Command) observed the national "Days of
Remembrance" on Wednesday, April 10, in the Conference Center of the Americas at their Miami headquarters.
This was part of the National Holocaust Remembrance week, which is observed April 7-14 and whose theme is "Never Again: Heeding the Warning Signs."
Rabbi Avrohom Stolik of Chabad in Downtown Coral Gables delivered the invocation at the start of the memorial ceremony.
Present were the top brass of the Southern command of the US military, including General John Kelly, commander of Southcom.
The guest speaker was holocaust survivor Mr. Alex Gross from Bal Harbour, who shared first hand accounts of his survival in the camps.
The event made a deep impression on all who were present and everyone walked away inspired by the memories and survival of the Jewish Nation after such a dark period in Jewish History.
In a conversation with Rabbi Stolik and Shaya Gheblikian (of Chabad Global Security) following the event, General Kelly expressed interest in strengthening ties with the Jewish community.
To see the photo gallery for this event, click here. 
From Miami Herald
February 28, 2013 
From gableshomepage.com: 
Ceremony brings light to 15-foot menorah in downtown Gables
December 13th, 2012
The 10th annual Coral Gables Festival of Lights Menorah Lighting Ceremony was held Thursday evening, Dec. 13, at Fred B. Hartnett Ponce Circle Park.
Dozens of participants enjoyed music, latkes, jelly doughnuts, dreidels and gelt, while children had fun at rock climbing, Hanukkah crafts, a bounce house and more.
Rabbi Avrohom Stolik of Chabad of Coral Gables continued this celebration that he and Spencer Aronfeld of Aronfeld Trial Lawyers established.
Special guests, including Coral Gables Mayor Jim Cason and Commissioner Maria Anderson, took turns lighting the eight candles of the 15-foot-tall menorah, which will remain at the park through the holiday season.
Link to article: http://www.gableshomepage.com/2012/12/14/ceremony-brings-light-to-15-foot-menorah-at-ponce-circle-park/
To view the photo gallery of this event, click here.
The Menorah Lighting Ceremony 2010 at Ponce Circle Park:
From CBS4 TV:
From gableshomepage.com: 
Coral Gables Menorah Radiates for all Faiths
By Ana I. Herrera / Staff Writer
Dec 06, 2010
Spectators from different religious affiliations clapped cheerfully as the Coral Gables menorah was lit on Sunday, Dec. 5, at Fred B. Hartnett Ponce Circle Park, 2810 Ponce de Leon Blvd.
Miami attorney Spencer Aronfeld, sponsor of the event, said that this celebration was not just for Jews but for people of all denominations.
"It symbolizes the importance of freedom to be who you are," he said.
Rabbi Avrohom Stolik said the festival of Hanukkah sends a universal message: "It symbolizes the victory of the few over the many, light over darkness, goodness over evil."
As the guest of honor, CBS4 reporter Gio Benitez lit the shamash, or service candle.
"I'm honored to have been invited to this celebration," Benitez said, adding it is very important because it represents freedom.
Kids enjoyed playing in a bounce house and showing their creativity through arts and crafts. Complimentary food for all included hot potato latkes and jelly doughnuts.
Visitors danced around the park to violin tunes and other music by a live band.
Miami-Dade County Commissioner Carlos A. Gimenez attended the ceremony and said it was very good because it's important to acknowledge our past, roots and culture.
Commissioner Gimenez, a Christian, said Jews are a strong part of America. "All of us should appreciate every faith," he added.
Gables resident Ana Bierman, who attended the event with her husband and two young children, said it was great to have an outdoor celebration of Hanukkah.
Mrs. Bierman, whose husband and children are Jewish though she is not, said this event serves to enhance every community's acceptance of different religious beliefs.
"It encourages children to be curious about other children," she said, adding that it helps in being understanding about others.
Gables resident Alexandra Clement, who is half Jewish, has attended the event for the past four years. "You don't find a lot of things for Hanukkah," she said.
Addressing all spectators, Rabbi Stolik said the fifth night of Hanukkah is very important because it stands for more light than darkness.
Encouraging everyone to bring the light of Hanukkah to those who need it, he spoke about a father and his special-needs son. Replying to his son's questions about his disability, the father said: "Perfection is how people react to special- needs children."
After his son was accepted by other boys in a sports team, the father said: "These boys have reached the level of God's perfection."
Link to article: http://www.gableshomepage.com/news/2010/12/06/coral-gables-menorah-radiates-all-faiths
To view the photo gallery of this event, click here.
The Menorah Lighting Ceremony 2009 (at Miami Children's Hospital) in the Miami Herald:
To view the photo gallery of this event, click here.
The Menorah Lighting Ceremony 2008 in the Miami Herald:
Coral Gables honors Mumbai victims
Coral Gables celebrated its sixth annual menorah lighting at Ponce Circle Park. Along with the festivities, the event paid tribute to victims of the Mumbai terrorist attack.
BY XAVIER E. MARTINEZ
Special to The Miami Herald
December 28, 2008
Coral Gables resident Mitch Bierman gathered his wife Ana and two children at Ponce Circle Park on Monday night because he wanted them to celebrate Judaism.
Coming from a dual religion family, Bierman felt his kids needed to experience a tradition passed down within the Jewish community for thousands of years.
At the sixth annual community menorah lighting, more than 200 spectators were treated to jelly doughnuts and latkes, a traditional Jewish potato pancake, as they witnessed the kindling of the first two candles of Hanukkah representing the commencement of eight days of celebrations.
''Today's turnout was beautiful. It is great to see people come out and be proud of their heritage,'' said event coordinator Rabbi Avrohom Stolik. ``The menorah is a symbol of unity and a symbol of religious freedom. We are very fortunate to live in a country where we are free to practice our religion.''
The addition of a bounce house, face painting and free Hanukkah presents brought lots of children this year.
''I came out because I wanted my kids to attend a public Hanukkah celebration,'' Bierman said. ``People around here like nice celebrations. Every time there is something in Ponce Circle, it always turns out a lot of people. This is a great neighborhood for this kind of thing.''
Special guests Mayor Don Slesnick and WTVJ-NBC6 news anchor Bob Mayer also took part in the festivities by assisting in the lighting of the 15-foot white menorah.
According to attorney Spencer Aronfeld, cohost of the event, the whole concept of the community lighting started during a conversation with Slesnick at, of all places, a Christmas party.
Over a glass of egg nog, Aronfeld joked with the mayor about Coral Gables having such an extensive Christmas park and no Hanukkah park. The mayor responded by saying there was no room in the budget for a giant menorah.
Aronfeld then said, ``Well, if I buy it, will you put it up?''
''If you buy it, I will definitely find a place to put it,'' Slesnick said.
Since then the festival has grown — attracting more spectators every year.
This year, however, the celebration had a slightly different tenor. A special memorial tribute to the victims of the Mumbai, India terrorist's attacks accompanied the event. A moment of silence and the lighting of a memorial candle were done in honor of the more than 176 people who lost their lives Nov. 26.
''We felt because just a few short weeks ago the people of India experienced such a terrible tragedy this was an opportunity to bring the community together in respect,'' Stolik said.
Rabbi Stolik, a Chabad movement devotee, lost two colleagues in the attacks. Chabad, an outreach organization geared toward attracting unaffiliated Jews, has centers all over the world. Their hub in Mumbai was targeted during the massacre. Rabbi Gavriel Holtzberg and his wife, Rivka, ran the center.
''I knew Rabbi Holtzberg,'' Stolik said. ``He was an unbelievably selfless individual. He gave up the comforts of living in the U.S. to go live in an exhausting place to set up a beacon of light for people of all walks of life.''
The Gables' menorah lighting was one of many around the U.S. honoring those who perished.
''The way you fight terror is not with bullets or guns. You fight terror with kindness. If we all chip in and light a candle in our own lives by doing more goodness and kindness, then we will prevail over the forces of evil and darkness,'' Stolik said.
At the lighting ceremony, Aronfeld also assisted in organizing a toy drive for kids of U.S. soldiers in Iraq and Afghanistan.
Because of a conversation he had with a former armed service member in his law office, Aronfeld and his friends have provided toys for the children of Florida soldiers that will not be with their parents this holiday season.
''I want to do something to bring the community together,'' Aronfeld said. ``We do not judge or discriminate. Everyone is welcome. It is me and my family's way to give something back to the city of Coral Gables.''
As residents dined and danced to traditional Jewish music, the spirit of Hanukkah was felt throughout Fred B. Hartnett Ponce Circle Park.
To read this article on the Herald's website, click here.
To view the photo gallery of this event, click here.
Rabbi Stolik & Spencer Aronfeld are interviewed about the upcoming Chanukah celebration on the South Florida Today show, on NBC-6 TV, December 19, 2008
The "Conference on Legal Ethics" in the local newspapers: 
To view the story below (from the "Coral Gables News") in an easier to read PDF format, click here.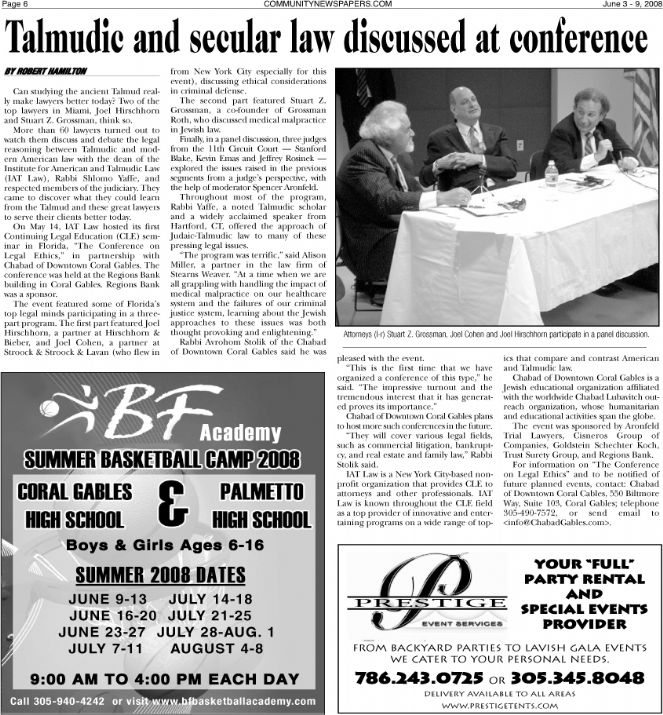 And below see how the story appeared in the Miami Herald:
To view the photo gallery of this event, click here.
The Public Menorah lighting 2007 in the Miami Herald:
 
Top: Mr. Marc Berenfeld of the accounting firm Berenfeld Spritzer Schechter & Sheer, one of the honorees, kindles the second light of the Menorah.
To view the photo gallery of this event, click here.